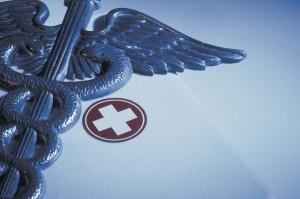 Today is the Feast Day of St. Luke, patron saint of physicians, painters and some others. Considering my many interactions with health care personally and professionally, it seems fitting to reflect on how communication and common sense are often so vital to healing. Last week a family member wound up in the emergency room and an overnight hospital stay for tests, which, fortunately, turned out negative. The whole ordeal was a false alarm, but we needed high-tech medicine to determine that. While I am tempted to go on a rant about the delays, mistakes and inefficiency we experienced, I am instead going to focus briefly on (1) how grateful I am that my family and I live in the 21st century, rather than Biblical times, in America's City of Medicine with health insurance and (2) the role of some different types of communication so important to the healing process.
Aside from physicians, equipment and meds, healing involves a lot of communication:
One-on-One. Hospital personnel have to share data and instructions from one level in the hierarchy to another, from one shift to another and with the patient as well. It seems like common sense to get this right, but whether one does can actually be the linchpin for good or not-so-good outcomes.
Word-of-Mouth. Patients and their loved ones share information with each other. I did that this morning when I gave the contact info of a favorite physician and suggested a med to ask about to a woman I encountered who was unburdening herself about the health struggles of one of her family members.
Online Information. Wow. Where to start? The Mayo Clinic's YouTube channel, Twitter, e-newsletters to health organizations, health media, websites of federal agencies and major nonprofits who advocate and disseminate information – I've used all of these in just a few hours today. My own doctors have at times suggested I look up a term or more detail online to learn more about a health situation.
Online Support. I currently receive notices and reciprocate support through Caring Bridge to three friends who are struggling with serious illness. Research has shown that patients who have a strong social support network fare better in dealing with serious illness and side-effects of treatment. Other sites, like Take Them A Meal, allow local friends to provide tangible help that can make a huge difference.
This is just a start, and mostly things we take for granted in 2012. Still, it is worth it take a few moments to be grateful for some communication tools we do have and to reflect on ways each of us can use them to do an even better job of helping each other to heal.