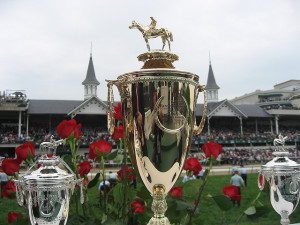 Who does not love an underdog? It's the quintessential American success story. Rags to riches, the outsider besting the ones with the breeding, background and connections … We saw all of that play out Saturday in the 140th running of the Kentucky Derby. California Chrome, the first California-bred 3-year-old to win the Derby since 1962, showed the Kentucky blue grassers what was what.
It's an archetype as old as David and Goliath. Underestimated or outright dismissed by others because he didn't have the origin or trappings deemed prerequisites for becoming a champion, he stepped up and got it done.
As a small business owner in an often overwhelming environment of rapid change and information overload, I see a valuable lesson in California Chrome's story. And, it is not the one that may first spring to mind.
Yes, this story is rich in examples of others around this Thoroughbred who believed in him. Despite the naysayers, the owners, the trainer and everyone involved in the journey to Louisville remained committed. Make no mistake, those who enjoy strong support, a network of believers who are invested financially or personally in one's success, definitely benefit.
However, we should not underestimate what was going on between California Chrome's own ears and in his heart — or perhaps more importantly what was not. We can only speculate, of course, but it is pretty safe to say he wasn't focusing on the talk about his light breeding (Mom is an $8,000 mare; Dad is a $2,000 stallion), or that he came from a state that hasn't bred a Derby winner in 52 years. Did he worry that his trainer is not one of the big names typically associated with the Mint Julep crowd, or dwell on the fact that his owners are one-horse good ol' boys?
I like to think that California Chrome didn't think very much at all. I picture a hardy creature letting his instincts, talent, training and competitive spirit take over when he went into that starting gate. I take heart in the strength, drive and determination that trumped all the analysis and overthinking by the humans around him.
In other words, he ran his own race.
As business owners and professionals, does this mean we should disregard analysis of the competitive environment or strategic use of resources to affect the best outcome? Certainly not. The warning though is to not let all that analysis – or against-the-odds findings from it – cause inertia. Sometimes it is simply time to show up, kick some dust and get it done in whatever race we are meant to run.
In my book, every horse, jockey, owner and trainer who was in the Kentucky Derby on Saturday is a success story. Each has a story of perseverance, heart and hard work that brought them to that first Saturday in May. Each has something positive to take from that experience to last a lifetime, whether it includes roses and a trophy, or not.
Each of us has a race to run that is uniquely ours. Sometimes it is wise to simply put the blinders on, put our heads down and just go.
So tell me, what race are you running today?